Brooks, Pierce, McLendon, Humphrey & Leonard, LLP, now commonly called "Brooks Pierce," was founded in 1897 when Aubrey Lee Brooks, of Person County, North Carolina, moved to Greensboro and joined Colonel James Boyd's established practice. In 1900, Col. Boyd left to become a Federal Judge for the Western District of North Carolina. In 1927, another firm member, Johnson Hayes, became the first U.S. District Court Judge of the newly formed Middle District of North Carolina.
Over the years, Mr. Brooks associated himself with a number of prominent lawyers throughout the state and nation. Among them were Willie Holderness, Judge Kenneth Brim, and Major McLendon. With the addition of Mr. Brooks' son, Thornton Brooks, in 1934, our firm became one of the largest in the state.
In the beginning, our firm focused on representing corporations and corporate litigation. We maintained a course of gradual growth while continuing to concentrate in corporate work. The name Brooks, Pierce, McLendon, Humphrey & Leonard, LLP was adopted in 1974 to reflect its leaders at that time: Thornton Brooks (a renowned labor and employment lawyer), Claude Pierce (formerly with the General Counsel's Office at the Internal Revenue Service), Mac McLendon (son of Major McLendon and Division Counsel to both Southern Railway and the North Carolina Savings & Loan League), Hugh Humphrey (formerly an officer in the Army Judge Advocate General Corps Headquarters at the Pentagon in Washington, DC), and Ted Leonard, a Greensboro native who had practiced briefly in Salisbury before joining us.
As we expanded during the 1980s and '90s, so did our areas of specialty. We have a substantial and well-recognized environmental practice due to the leadership of George House, a founding member of the North Carolina Environmental Law Section, and Bill Ross, former Secretary of the North Carolina Department of Environment and Natural Resources.
Around the same time, Ed Winslow became general counsel to the North Carolina Bankers Association and directed our substantial banking practice. Jim Williams, Reid Phillips, and Dan McGinn, all members of the American College of Trial Lawyers, are nationally respected names among our firm's corporate litigation attorneys, whose numbers include numerous former judicial clerks.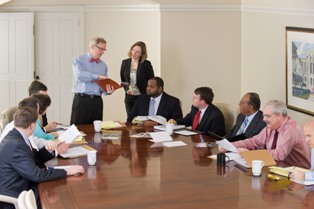 A major event in our firm's history occurred in 1994 when communications and media law experts Wade Hargrove, Mark Prak, and Marcus Trathen joined the firm and became the core members of our Raleigh office. Growing to meet the full range of corporate legal needs, our Raleigh office now number thirty attorneys who represent a wide range of clients before all three branches of North Carolina state government, administrative agencies, federal courts, and Congress. Meanwhile, the Greensboro office has grown to approximately 60 attorneys practicing in all areas of business law, corporate transactions, and civil litigation.
In January 2013, the firm opened its third office in Wilmington, NC with the addition of attorneys Charles Baldwin, Ed West, and Thomas Varnum. With these additions, Brooks Pierce had 95 lawyers across North Carolina and expanded its litigation, international and customs law, and intellectual property practices.       
The tradition of excellence lives on today as our attorneys are active in their communities and many serve pro bono in leadership positions for local, state and national bar associations as well as professional trade, educational, political, economic development, civic, charitable, religious, community, non-profit, and government organizations.
The exceptional skill, leadership, professionalism, and work ethic of each of our attorneys is recognized within and outside the legal profession. Over half of our firm's attorneys have been named in Best Lawyers in America, and a number of our senior attorneys have been singled out for excellence by Business North Carolina's "Legal Elite," Chambers USA, and North Carolina Super Lawyers. Several of our litigation attorneys are Fellows in the American College of Trial Lawyers.