Benchmark Litigation Names Brooks Pierce "North Carolina Law Firm of the Year" For Third Consecutive Year
Benchmark Litigation
02.16.2018
Brooks Pierce has been named the 2018 "North Carolina Law Firm of the Year" by Benchmark Litigation, a trusted, independent research organization. The firm was previously selected for this honor in 2016 and 2017. Brooks Pierce partners Gary Parsons and John Ormand accepted the award on the firm's behalf at a ceremony in New York City on February 15.
"Brooks Pierce takes pride in consistently tackling complex, often precedent-setting cases," said Reid Phillips, the firm's managing partner. "We strive to find innovative solutions for our clients, and we are honored that the high caliber of work we do on their behalf is being recognized by Benchmark Litigation for the third year in a row."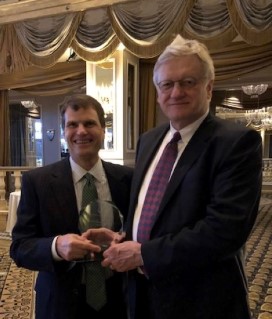 Other North Carolina firms named to the short list were: Ellis & Winters, Parker Poe Adams & Bernstein, Robinson Bradshaw & Hinson and Smith Anderson. Nominees were chosen based upon research conducted between March and November 2017.
Benchmark Litigation serves as the definitive guide to America's leading litigation firms and attorneys. Rankings are based on a six-month period where Benchmark researchers conduct extensive interviews with litigators and their clients to identify the leaders in litigation. More information on the guide's methodology can be found here.