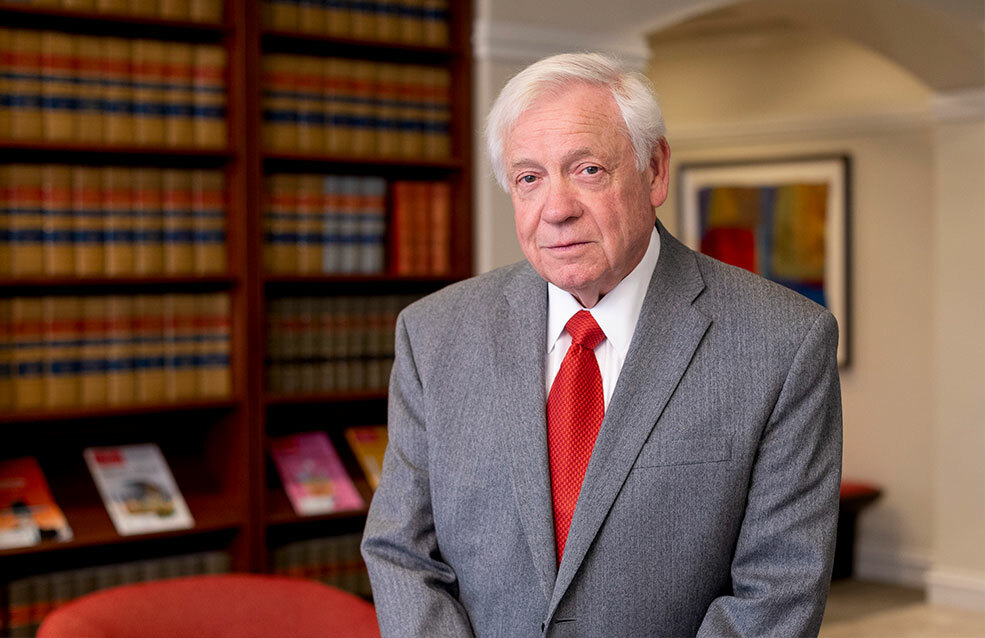 Overview
George House has worked in every area of environmental law and litigation since the birth of the practice in the 1970s. A seasoned environmental litigator, George represents his clients on matters related to mining law, water law, air compliance, and hazardous waste.
My Practices
George has experience in virtually every area of environmental law and focuses his practice on matters related to mining law, water law, hazardous waste and substances, and air compliance. He represents a multitude of clients, including textile manufacturing companies, furniture manufacturing companies, foundries, mining companies, integrated forest products, producing and manufacturing companies, real estate developers, metallurgical companies, oil products distribution companies, communication companies, and a large number of municipal governments.

George continues to be widely recognized by his peers and clients for his work. He has been included in The Best Lawyers in America©, North Carolina Super Lawyers, Business North Carolina's "Legal Elite," and Chambers USA: America's Leading Lawyers for Business, which noted in its 2019 guide that "peers describe him as 'very knowledgeable.'"

Interviewees describe George House as "the best of the best" when it comes to environmental law. He advises and litigates on matters relating to waste, water and air compliance throughout North Carolina. --Chambers USA: America's Leading Lawyers for Business, 2017

George has extensive litigation experience before administrative hearing offices, judges, juries, and appellate courts. His experience includes: successfully obtaining permits based upon complex Environmental Impact Statements; the finalization of innovative agreements for the cleanup of contaminated properties; the litigation to favorable judgment of CERCLA cost recovery cases; the successful litigation of several major insurance coverage cases; the resolution of air permitting issues in numerous states; and the defense and favorable resolution of major Clean Water Act citizen suits.
Credentials
Honors & Recognitions
Recognized as a "2018 Power Player," by Triad Business Journal
Selected by his peers for inclusion in The Best Lawyers in America© in Environmental Law, Natural Resources Law, Water Law, Litigation – Environmental, and Mining Law (1989-2024)
Recognized by his peers for inclusion in Business North Carolina Magazine's "Legal Elite" in Litigation (2005), and Environmental and Natural Resources Law (2002-2004); also permanently recognized in the "Legal Elite Hall of Fame" for Environmental Law
Recognized by North Carolina Super Lawyers (Thomson Reuters) in Environmental Litigation (2006-2021); Top 100 (2007-2008)
Recognized by Super Lawyers Business Edition for Environmental Litigation (2015)
Recognized by Chambers USA: America's Leading Lawyers for Business in Environmental Law (2004-2023)
Received the 2013 Ed Kitchen Award from Downtown Greensboro Inc. for Community Service and Leadership
Served as Captain, U.S. Army Judge Advocate General's Corps (1969-1976) and was awarded an MSM
Education
University of Virginia School of Law, J.D., 1972; Notes and Comment Editor, Virginia Journal of International Law, 1971-72
Davidson College, B.A., 1969, cum laude
Admissions
North Carolina
Virginia
U.S. Supreme Court
U.S. Court of Appeals for the 1st, 3rd, 4th, and 11th Circuits
Newsroom
News
Publications
Client Alert

Client Alert
Professional & Civic
Professional &amp Civic Activities
Board of Directors, Greensboro Science Center (2014 – present)
Board of Directors, Pisgah Astronomical Research Institute (2014 – present)
Appointment by the North Carolina Governor to Chair the Advisory Commission for the North Carolina Museum of Natural Sciences (2000-2013), and Member (1995-2014)
Member, Board of Directors, Downtown Greensboro, Inc. (DGI) (2006-2014)
Member, Board of Visitors, Guilford College (2001-2009)
Chair (2001-02), Vice Chair (2000-2001), Secretary (1999-2000), Treasurer (1998-1999), of the Environmental, Energy and Natural Resources Law Section, North Carolina Bar Association
Director (1990-2002), Vice President for Development (2002), President (1997-1999), and Recording Secretary/Legal Advisor (1990-1995), Greensboro Opera Company
President, UNCG Angels Theatre Support Group (1989-1991)
Member, Board of Directors and Executive Committee, Legal Counsel, Greensboro United Arts Council (1988-2003)
Director, Guilford County Cattleman's Association (1988-1990)
About Me
When I graduated from UVA Law in 1972, there were no courses in environmental law, and the first true environmental law, the Clean Water Act, was passed. After four years on active duty as an Army Judge Advocate, mostly in Germany, I returned to North Carolina and this firm in 1976. One of the senior partners handed me one of the very first water discharge permits ever issued for a textile plant and asked me if I understood the basic chemistry involved. Forty-six years later, I am still dealing with issues related to water permits, air permits, hazardous waste permits and solid waste permits. I guess you could say environmental law just grew around me and the nine other lawyers with whom I share an outstanding environmental practice. I believe our world is made better by the pursuit of good science. I served for 16 years on the Advisory Commission for the North Carolina Museum of Natural Sciences in Raleigh and for 12 years as the chair of the Commission during which time this institution undertook over $100 million in capital improvements and achieved national recognition as one of the top five such museums and research facilities in America. Leaving that Commission in 2013, I joined the board of the Greensboro Science Center which is fast becoming "the" major tourist attraction in the Triad, blending fun and learning with the only co-located museum, aquarium, and zoo in North Carolina.