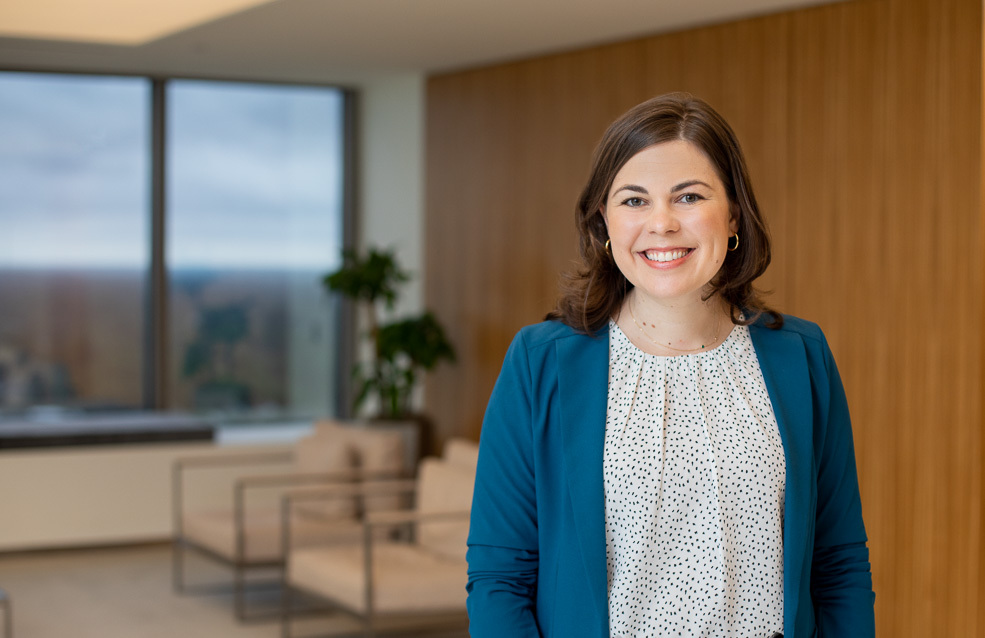 Jessica
Thaller-Moran
Partner
Overview
Jessi Thaller-Moran focuses her practice on employment law and litigation, counseling employers on compliance with state and federal laws. She also uses her experience in the North Carolina Business Court to develop strategies for clients embroiled in a myriad of complex business litigation disputes, helping clients to think creatively about opportunities for resolution and zealously advocating for their interests in court when the need arises.
My Practices
Jessi seeks to help companies thrive by helping them plan for, and respond to, issues involving their workforce. She has advised companies on wage and hour issues, FMLA/ADA compliance, Title VII and other discrimination claims, non-competition and other agreements, and social media usage policies. She conducts employment policy reviews and training on workplace inclusivity.

During the COVID-19 pandemic, Jessi has devoted much of her time to counseling clients on appropriate responses, including federal paid leave laws and staffing adjustments made necessary by the pandemic such as transitioning to remote work and providing workplace accommodations for vulnerable individuals.

Jessi represents employers in all levels of state and federal courts, as well as before administrative agencies. She has litigated wage and hour disputes, claims for violations of major employment laws like Title VII and the ADA, and challenges to independent contractor classification. She also counsels clients through contentious pre-litigation disputes.

Jessi brings her impressive experience with the North Carolina Business Court to bear for clients, developing thorough and assertive litigation strategies to handle a variety of business disputes, including contracts, corporate governance, shareholder disputes, and trade secrets, among other issues.
Experience
Employment Litigation
Federal collective action alleging misclassification of independent contractors and corresponding violations of wage and hour laws.
Defending charges of discrimination and ADA non-compliance before the Equal Employment Opportunity Commission.
Negotiating exit package for company executive to ensure company stability in the midst of leadership dispute.
Complex Business Litigation
North Carolina Business Court case involving a family business dispute and dissolution of a company.
North Carolina Business Court case involving breach of contract claims under the Uniform Commercial Code. This case provided clarity for practitioners on how the UCC is applied to the sale of goods in North Carolina.
North Carolina Business Court case involving a dispute over the valuation of stock shares in a publicly traded company.
Matter pending before the North Carolina Office of Administrative Hearings regarding contracts awarded by the State of North Carolina as part of the planned privatization of North Carolina's Medicaid program.
Credentials
Clerkships
Law Clerk to the Honorable John R. Jolly, Jr., Chief Special Superior Court Judge for Complex Business Cases, North Carolina Business Court, 2013–14
Law Clerk to the Honorable Gregory P. McGuire, Special Superior Court Judge for Complex Business Cases, North Carolina Business Court, 2014–15
Honors & Recognitions
Selected by her peers for inclusion in The Best Lawyers in America© in Litigation - Labor and Employment (2022 & 2023)
Recognized by her peers for inclusion in Business North Carolina's "Legal Elite" in Employment Law (2021, 2023)
Education
University of North Carolina School of Law, J.D., 2013, with honors; Comments Editor, North Carolina Law Review, 2012-13
University of Richmond, B.A., 2009, summa cum laude; Phi Beta Kappa
Admissions
North Carolina
U.S. District Court for the Eastern District of North Carolina
About Me
My approach to the practice of law is very similar to my approach to life: I believe the right combination of planning and flexibility can solve most problems.
I attribute this in large part to my experiences as the oldest of five children. If you've ever taken a group of five children anywhere, you know that the right supplies and attitude can go a long way. In my experience, the same applies to business management: communicating expectations and contingency planning are essential, as is the ability to adapt and think creatively when things don't go as planned.
Outside of work, I love exploring local parks with my family and reading everything from novels to advice columns. I have also lived for more than twenty-five years with Type I Diabetes. I serve on the board for The Diabetes Family Connection, an organization with the mission to positively transform life with diabetes through the power of community. I am proud to be an ambassador for the Type I Diabetes community and believe that visibility is key to showing what is possible.