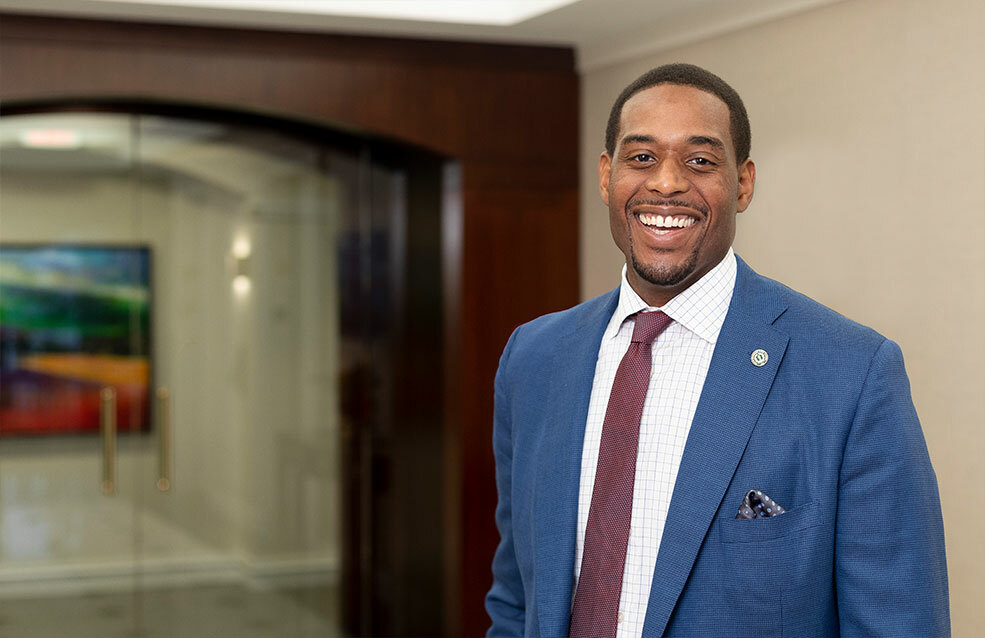 Justin
N.
Outling
Partner and Director of Diversity & Inclusion
Overview
Justin Outling focuses his practice on business litigation and white-collar criminal defense. He helps businesses and professionals in a variety of industries, and has successfully brought and defended lawsuits in a myriad of matters. Justin also serves as the firm's Director of Diversity & Inclusion.
My Practices
Justin has successfully defended clients in a variety of matters, including breach of contract, unfair competition and trade practices, fraud, shareholder disputes, and commercial financing.

Prior to joining Brooks Pierce, Justin practiced law at Cleary Gottlieb Steen & Hamilton, LLP in New York City, where he represented financial institutions and multi-national corporations in securities and other complex litigation, as well as in criminal and regulatory matters.

Justin's experience includes representing companies in governmental inquiries and investigations, involving hedge funds with exposure to the Bernard Madoff fraud, "repo" trading of securities, insider trading, and possible criminal liability arising from a mining accident that resulted in the deaths of over a dozen people.

Justin represents health care organizations on a variety of issues. His experience includes representing a hospital in breach of contract action involving a joint venture for an ambulatory surgical center.

Continuing his work with the firm's established Diversity & Inclusion Committee, Justin is responsible for originating, leading and supervising all of Brooks Pierce's diversity and inclusion efforts.
Credentials
Clerkships
Law clerk to Judge William L. Osteen, Jr., U.S. District Court for the Middle District of North Carolina, 2008-2009
Honors & Recognitions
Selected for Benchmark Litigation's "40 & Under Hot List" (2020-2021)
University of North Carolina at Greensboro (UNCG) Alumni Award for Professional Achievement (2019)
North Carolina Bar Association (NCBA) Citizen Lawyer Award (2019)
Selected for Black Business Ink Magazine's "40 Under 40 Most Influential African Americans in the Piedmont" (2019)
Selected by his peers for inclusion in Business North Carolina's "Legal Elite" in Litigation (2021) and in the Young Guns category (2018)
Listed on Greensboro News & Record's Top 20 People of Influence in Greensboro (2017)
Triad Business Journal, "40 Under 40" Award (2016)
Guilford County Association of Black Lawyers, Outstanding Young Lawyer Award (2016)
Pro Bono Publico Award, Legal Aid Society of New York (for outstanding representation of domestic workers in human trafficking civil suit for unpaid wages)
Education
Duke University School of Law, J.D., 2008; Editor, Journal of Gender Law & Policy
University of North Carolina at Greensboro, B.A., 2005, cum laude; Attorney General, Student Excellence Award; Outstanding Political Science Student Award, 2005
Admissions
New York
North Carolina
U.S. Court of Appeals for the 4th Circuit
U.S. District Court for the Western, Middle, and Eastern Districts of North Carolina
Newsroom
News
news

news

news

news

Speaking Engagement

news

Media Mention

Media Mention

Triad Business Journal

,

02.08.2022

Recognition

Benchmark Litigation

,

10.07.2021

Recognition

Benchmark Litigation

,

08.09.2021

Media Mention

Triad Business Journal

,

02.09.2021

Recognition

Business North Carolina Legal Elite

,

01.03.2021

Recognition

Benchmark Litigation

,

11.09.2020

Press Release

Recognition

Benchmark Litigation

,

07.31.2020

Recognition

Recognition

Media Mention

Media Mention

WFDD Radio Camp

,

08.06.2019

Press Release

Press Release

Press Release

Press Release

Recognition

Business North Carolina

,

01.02.2018

Press Release

Media Mention

Media Mention

Press Release

Media Mention

Media Mention

Media Mention

Press Release

Media Mention

Media Mention

Media Mention

Media Mention

Greensboro News and Record

,

07.06.2015

Press Release

Media Mention

Triad City Beat

,

02.17.2015

Press Release
Professional & Civic
Professional &amp Civic Activities
Board of Directors, United Way of Greater Greensboro (2023-present)
Board of Directors, Carolina State Bank (2019-present)
Co-Chair (2018-present), Member (2013-present), Board of Visitors, University of North Carolina at Greensboro
Board of Directors, Elsewhere (living art museum) (2016-2018)
Board of Directors, Hospice Foundation of Greater Greensboro (2016-2019)
Board of Directors, Greensboro Downtown Parks, Inc. (2016-present)
Greensboro City Council, District Three (2015-present)
Board of Trustees, Triad Stage (2015-2018)
Piedmont Triad Water Authority (2015-2016)
Member, Greensboro Fun Fourth Festival Advisory Board (2015-2016)
Council Member, Antitrust & Complex Business Disputes Law Section, North Carolina Bar Association (2014-2015)
Chairman, Minimum Housing Standards Commission, City of Greensboro (2014-2015)
Council Member, Action Greensboro synerG (Co-chair, Professional & Leadership Development Committee) (2014-2015)
Member, Steering Committee, Community Foundation of Greater Greensboro, Future Fund (2014-2015)
Board of Directors, UNCG Alumni Association (2013-2015) (Chairman of Legislative Advocacy Committee, 2014-2015)
Member, Greensboro Bar Association (2013-present)
Member, Chief Justice Joseph Branch Inn of Court (2013-2016)
About Me
My favorite virtue: Integrity
My occupation if I weren't a lawyer: Sociologist
My favorite prose author: Isabel Wilkerson
My favorite activity away from work: Enjoying downtown Greensboro with my wife and two kiddos
My heroes in real life: My mother and my colleague, Henry Frye, both of whom embody the motto of "service above self"