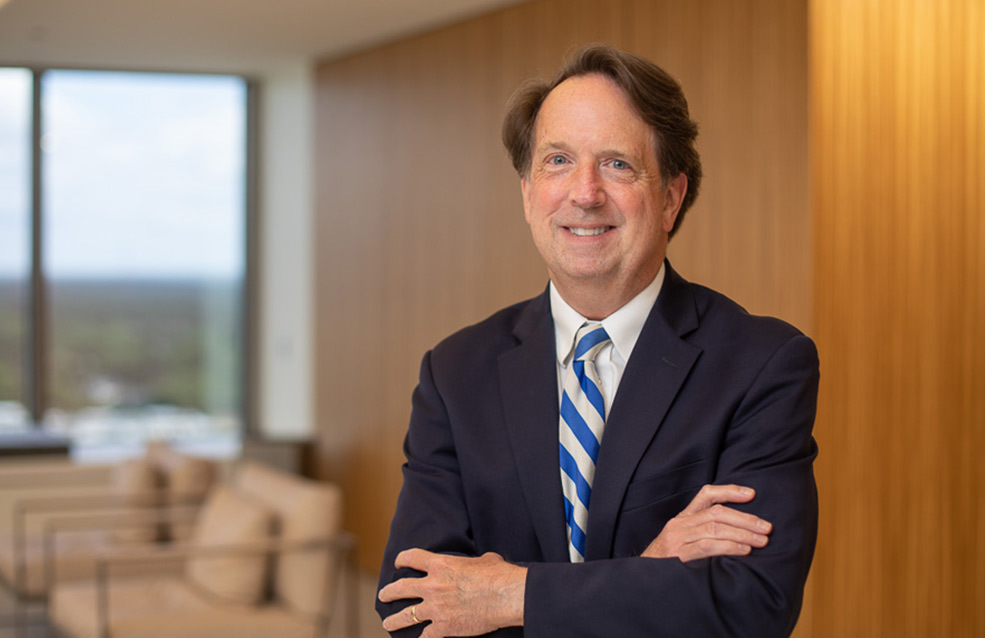 Overview
Having served in key leadership positions in state and federal government, Ed Turlington uses this experience to serve clients in a variety of industries, including health care, transportation and education. Much of his time is spent advising technology companies on legal issues and public policy matters.
My Practices
Ed has a distinguished record of public service. He has served as Chief of Staff to both the Governor and Lt. Governor of North Carolina, as Special Assistant/Counsel to a United States Senator, and as a national advisor to three presidential candidates.

Given his government experience, Ed represents clients before the executive branch, legislative branch, and agencies on a variety of matters. In his practice, he works to impact government policy through interactions with senior government officials, regulatory and administrative agencies, and drafting and building support for legislation. He has been ranked by the North Carolina Center for Public Policy Research in the top three percent of all registered lobbyists in the state.

His work includes representing clients in procurement and contract matters with state agencies such as the Department of Information Technology, the Department of Transportation, and the Department of Health and Human Services.

In his roles as an attorney and public policy leader, Ed has appeared on CNN, MSNBC, Fox, CSPAN, NPR and the BBC. He has also been quoted in the New York Times, the Washington Post and the Wall Street Journal.

"

I enjoy learning about the business of our clients and helping shape their strategy. When I can use my knowledge and experience to help them succeed, that's about as good as it gets."

Ed represents a variety of businesses in the fields of media, communications and technology. He spends much of his time advising tech companies on contracts, procurement and taxation, and served as state government counsel to the North Carolina Tech Association since 2005. An active lobbyist, Ed works for policies that help grow technology jobs in North Carolina and across the nation.

Ed counsels health care organizations on a variety of regulatory and legal issues, including legislation related to the industry. His practice includes representing companies that provide health insurance and services (both to individuals and correctional institutions) and companies that operate hospitals.

Ed counsels businesses on economic incentives and works to impact government policies, such as state tax laws and regulations, in an effort to create jobs in North Carolina.
Experience
Helped author and enact state laws on information technology procurement and to discourage patent trolls

Helped convenience store industry enact state lottery provisions facilitating their sale of lottery products

Assisted numerous clients with procurement and contracts at various state agencies
Credentials
Clerkships
Law Clerk to Judge Gerald Arnold, North Carolina Court of Appeals, 1982-83
Honors & Recognitions
Recognized in The Best Lawyers in America© in Government Relations Practice (2011-2024), Corporate Law and Commercial Litigation (2011-2024); Raleigh "Lawyer of the Year" for Government Relations Practice (2020)
Recognized in North Carolina Super Lawyers (Thomson Reuters) in Business/Corporate Law (2006, 2014-2017)
Recognized in Super Lawyers Business Edition for Business/Corporate Law (2015)
Peer Review Rated "AV Preeminent" by Martindale-Hubbell
Winner of the IT Support Services Award from the North Carolina Technology Association
Education
University of North Carolina School of Law, J.D., 1982; President, Student Bar Association; Phi Delta Phi; Holderness Moot Court Bench
Duke University, B.A., 1979, cum laude
Admissions
North Carolina
U.S. Supreme Court
U.S. Court of Appeals for the 4th Circuit
U.S. District Court for the Eastern District of North Carolina
Newsroom
News
news

news

Client Alert

news

news

Recognition

Recognition

The Best Lawyers in America®

,

08.19.2021

Press Release

Recognition

The Best Lawyers in America®

,

08.20.2020

Recognition

The Best Lawyers in America®

,

08.15.2019

Recognition

The Best Lawyers in America®

,

08.15.2018

Recognition

The Best Lawyers in America®

,

08.15.2017

Recognition

North Carolina Super Lawyers

,

01.20.2017

Press Release

Recognition

The Best Lawyers in America®

,

08.15.2016

Press Release

Recognition

Recognition

Super Lawyers Business Edition

,

11.05.2015

Recognition

The Best Lawyers in America®

,

08.17.2015

Recognition

North Carolina Super Lawyers

,

01.20.2015

Recognition

Recognition

Recognition

Recognition

Press Release

Recognition

Recognition

Press Release

Recognition

Press Release

Media Mention

Press Release
Speaking Engagements
Professional & Civic
Professional &amp Civic Activities
President, Duke University Class of 1979 (1989-1994)
Board of Trustees, Kenan Institute for Engineering, Science and Technology at NC State University (2000-present)
Board of Directors, UNC-Chapel Hill School of Law Alumni (2012-2018)
Board of Directors, Wake Technical Community College Foundation (2006-2015) (Former Chair)
Board of Directors, NC Methodist Home for Children (2005-2013)
Board of Advisors, Triangle Family Services (2015-present)
Member, Edenton Street United Methodist Church, Raleigh, NC (Former Chair of Administrative Board and Finance Committee)
Member, Democratic National Committee (2009-2013)
Board Member, NC Rural Internet Access Authority (2000-03)
North Carolina Bar Association (2000-present)
Wake County Bar Association (2000-present)
About Me
Although I grew up watching Perry Mason, my work is not always as exciting or definitive as that show. Instead, steady often wins the race, and the answer to a problem usually doesn't come in 60 minutes.
To maximize value to the Firm's clients, I ask questions to understand their goals and often visit their workplaces to understand the nuances of their needs. You can learn a lot by visiting their "turf." In addition, I seek to think carefully before advising them or acting on their behalf.
My perspective is shaped by having worked in professions other than law (government and politics to name two) and in many different places (one job took me to 35 states, and I lived in the San Francisco and New York areas while doing it). That life experience helps me view client matters through a lens outside of my city or my state. Given that clients often have national and even global challenges, I think that's a plus.
When I'm not working, I "sharpen the saw" (thanks to Stephen Covey) by time with my family (that includes three very active school-age children), church and community involvement, running, reading, and as a college sports fan. I like my work, but it's these other things that remind me that even though I'm blessed with a busy practice, my family and personal relationships are the core of who I am as a person.